Shopping Cart
Your Cart is Empty
There was an error with PayPal
Click here to try again
Thank you for your business!
You should be receiving an order confirmation from Paypal shortly.
Exit Shopping Cart
Tara Sood Fine Art - Fiber and Book Studio
For the last couple of weeks, I've been attending a drawing session with live models available to draw.  It is a great change of pace to draw someone that is actually sitting in one position for a while. 
In addition I've been reading about drawing the costumed person, which has been a GREAT help.  For example, when drawing the knee, draw the front first in order to get the pose correct and then draw the back of the knee. 
Drawing is the basis of any painting, therefore I have been working on this for the last month and a half.  Also, it's easier to do with two little boy!  =) 
Watch for my two favorite drawings in the next blog post. 
Plein Air San Onofre
What a pleasure to paint straight for three hours without interruption and in a beautiful location.  Four artists (including myself) painted on an overlook of the beautiful San Onofre area today.  Foggy and full of atmosphere that gave a feeling of sleepiness.  Our art teacher - Rita - worked us through the many challenges of choosing a subject, exacting the composition, and maintaining the first atmospheric effect.  Wonderful!  I will post the painting soon!
-Tara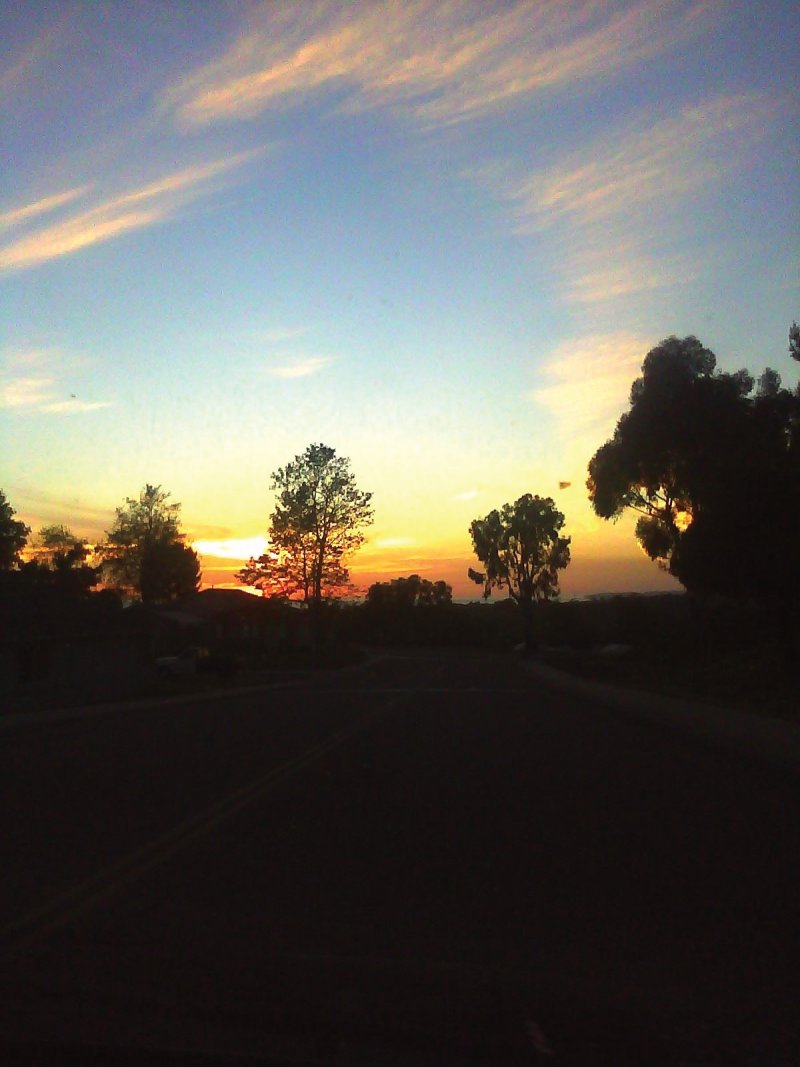 This week looks to be a busy one in the painting world.  Last week I worked to finish up many of my pieces, that is a slow process.  But they are coming along!  This week I will again go out and do some Plein Air paintings.  Likely I'll be at a partk in the middle of Orange County painting on Tuesday and still to be announced for the Friday painting. 

 

A few things to challenge myself and other Plein Air painters from a painter recently highlighted in the Plein Air magazine (he is now studying in Russia):

 

- Paint 2 small Plein Air paintings a day.  Nothing else will improve your use of color

 

Then from another painter:

- Paint 100 paintings each in 1 hour. 

 

So, I will take this advice and run...well Paint!  With two little boys it may be a bit slower, but I will try!  =)

 

The picture is a beautiful sunset we saw yesterday - I sure would like to paint this!

 

 

Hello All! 

 

Here are the pictures that I had the privilege to paint while learning under Tom Lynch.

 

The first is a night painting of a farmhouse with a pile of cut flowers ready for sorting the next day.  A light source is shining from outside the painting to illuminate parts of the yard. 

 

 

 

 

 

 

 

 

 

 

 

 

 

 

 

 

The next three are a whole workshop on painting sunlight and shadow. 

The first (right to left and then the one below) is a work on how the sun affects land from the sun source and out.  When sunlight shines from the source on land (as in a sunset) the color series is from yellow, orange, red, red-violet, violet, then deep blue.  After the deep blue is reached the real color can be visible.

 

The second painting is the sun shining through the trees.

 

The third is the effect of shadows cast by a group of tall trees. 

 

This past weekend I had the great privilege of sitting through one Tom Lynch lecture and 2 of his workshops: Painting Night Scenes & Sunlight and Shadow. 

 

He is an excellent teacher and brilliant artist.  Watch in the next few days as I load some of the work that we completed during the workshop and give you some of the tips I learned from him. 

 

Take his workshop if he is in your area...see him on the web by searching 'Tom Lynch'. 

0

/