Shopping Cart
Your Cart is Empty
There was an error with PayPal
Click here to try again
Thank you for your business!
You should be receiving an order confirmation from Paypal shortly.
Exit Shopping Cart
Tara Sood Fine Art - Fiber and Book Studio
On Location Show coming up at the Newport Beach gallery.
Hello All!  I have been juried into the next show for SoCalPapa (Southern California Plein Air Painter's Association) and will be showing two pieces at the upcoming 'On Location' show.  My two pieces are shown below for your perusal.  These will be available for purchase through that gallery until the end of October.  The gallery is located at the Balboa Fun Zone in Newport Beach.  Our gallery is in association with the Newport Harbor Nautical Museum.  Come and check it all out! 
The painting on the left is called 'Here Comes the Next One' and I painted this two weeks ago one sunny day on San Onofre Beach.  The second painting, on the right, is called 'Beach Rail', an oil painting of the Coast Railway near Trestles Surfing Area at San Onofre. 
Recent Happenings
-Finished a painting at the Oceanside Lagoon.  The Lagoon is beautiful, it is a water inlet from the ocean with the colorful grasses growing from it.  My boys were with me during this lesson with Rita and it was quite a challenge to focus on painting.  I'm surprised I finished it, but I think next time I'll just stay home if I have them with me.  =)
-This last Friday we had talked about going to a vegetable stand but the weather proved dreary so we met at Rita's studio she shares with Scott W. Prior (another wonderful painter!) to paint a still - life.  This is currently in the works.
-I decided I needed to take what I've learned in the lessons and attempt to do some plein air paintings on my own.  And it proved successful!  I was juried into the Southern California Plein Air Painter's Association Aquatics show.  Praise God!  I'll be dropping off those paintings tomorrow. 
I'll work to get those paintings up here tomorrow or Tuesday. 
-Tara
Santiago Oaks Regional Park, Orange, CA
'The Creek Bed, Santiago Creek'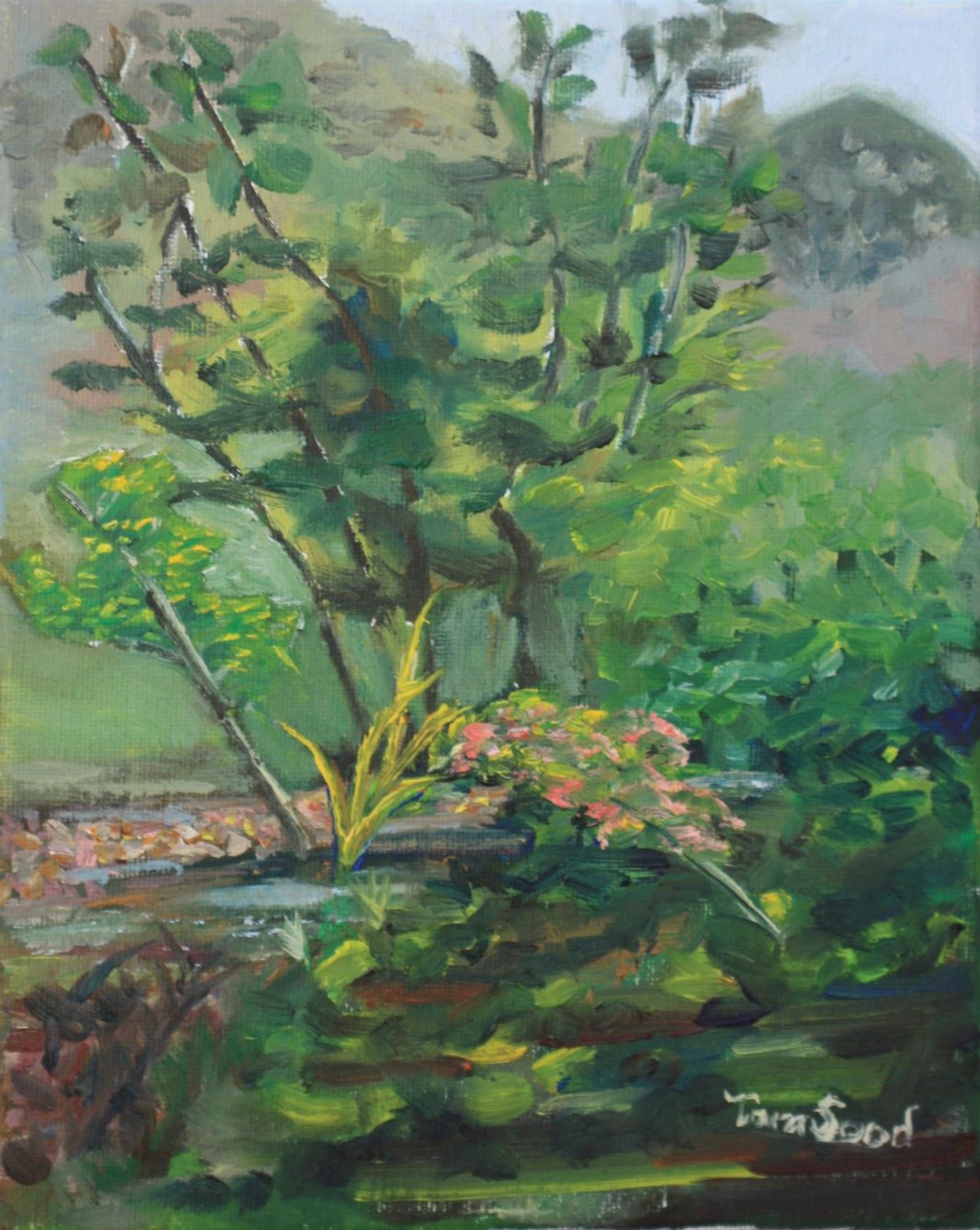 I volunteered to host the last Plein Air Paintout with SoCalPAPA (the Southern California Plein Air Painter's Association) this last Friday, 5/27/2011.  Had Rohan and Logan with me (my two boys) which was fun and a challenge to paint!  However, I did complete or partly complete a painting!  Here it is.  We were positioned along the Santiago Creek in the shade of some beautiful oak and California Sycamore trees.  Beautiful!  Come to find out it was a horse trail so I had to move off the trail before the painting was finished. 
Enjoy!  And let me know what you think.  This will be available for sale through my website and at my booth during the Paint San Clemente week coming up: June 18 - 25.  Look for posts regarding this.
Cheers,
Tara
Proverbs 3:5&6
This last Friday and the Friday before I was out painting.  Yeah!  My artist friend/teacher - Rita Pacheco was there working with me as well.  The first Friday we painted at an overlook a block from my house on Camp Pendleton, here it is titled, Sleepy Friday, and is available for sale on my website.  I will also be selling prints of this one.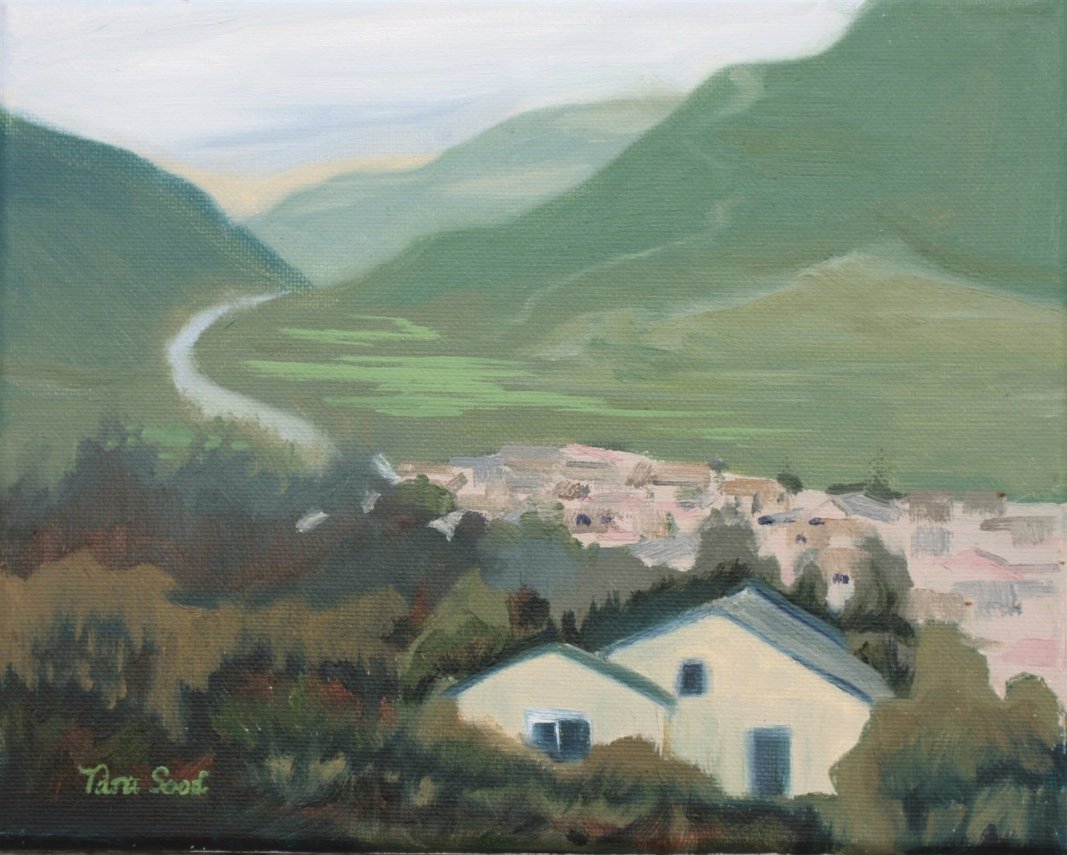 The next Friday we were out at the Camp Pendleton access of San Onofre Beach.  The sun peeked out for about 1 hour and then hid behind the clouds for the rest of our painting time.  We had to memorize those sun spots!  And it started getting really chilly!  Here is that painting, an 8" x 10" called: The Sun Peeked, San Onofre Beach.  This one is also available for sale on my website.  If you are interested in a print, please e-mail me at: www.journeyartstudio.com.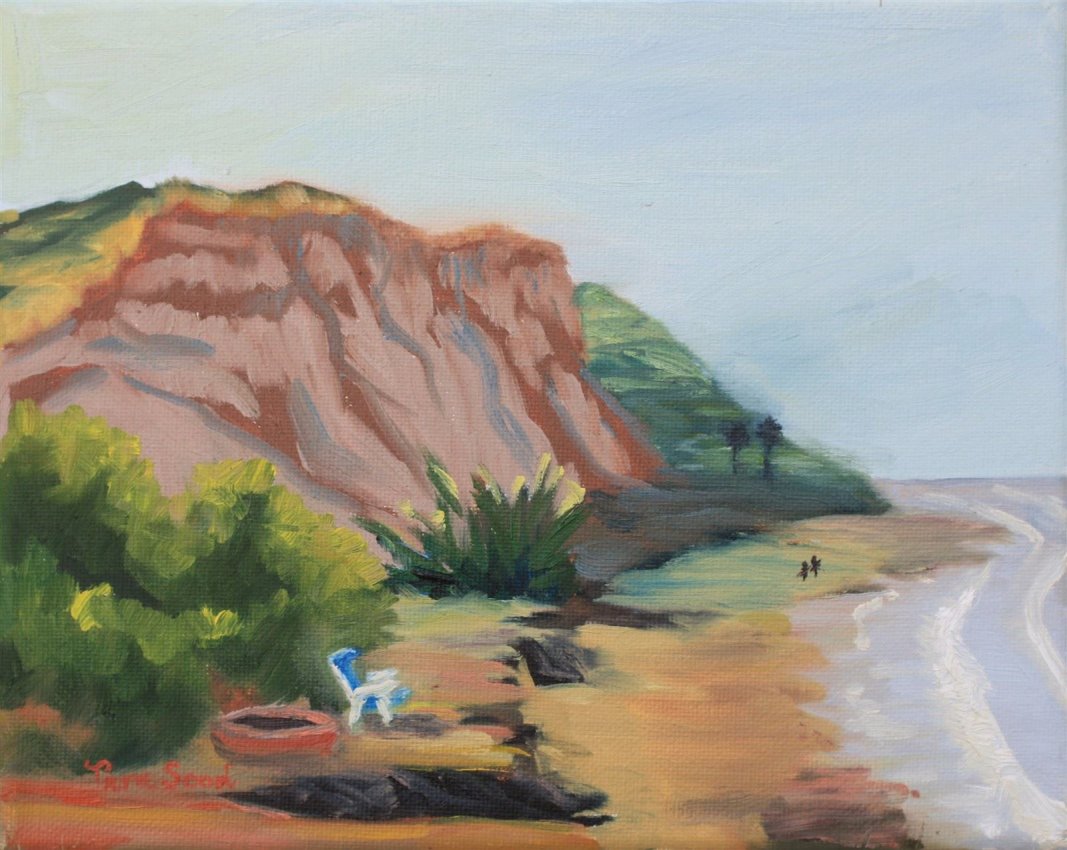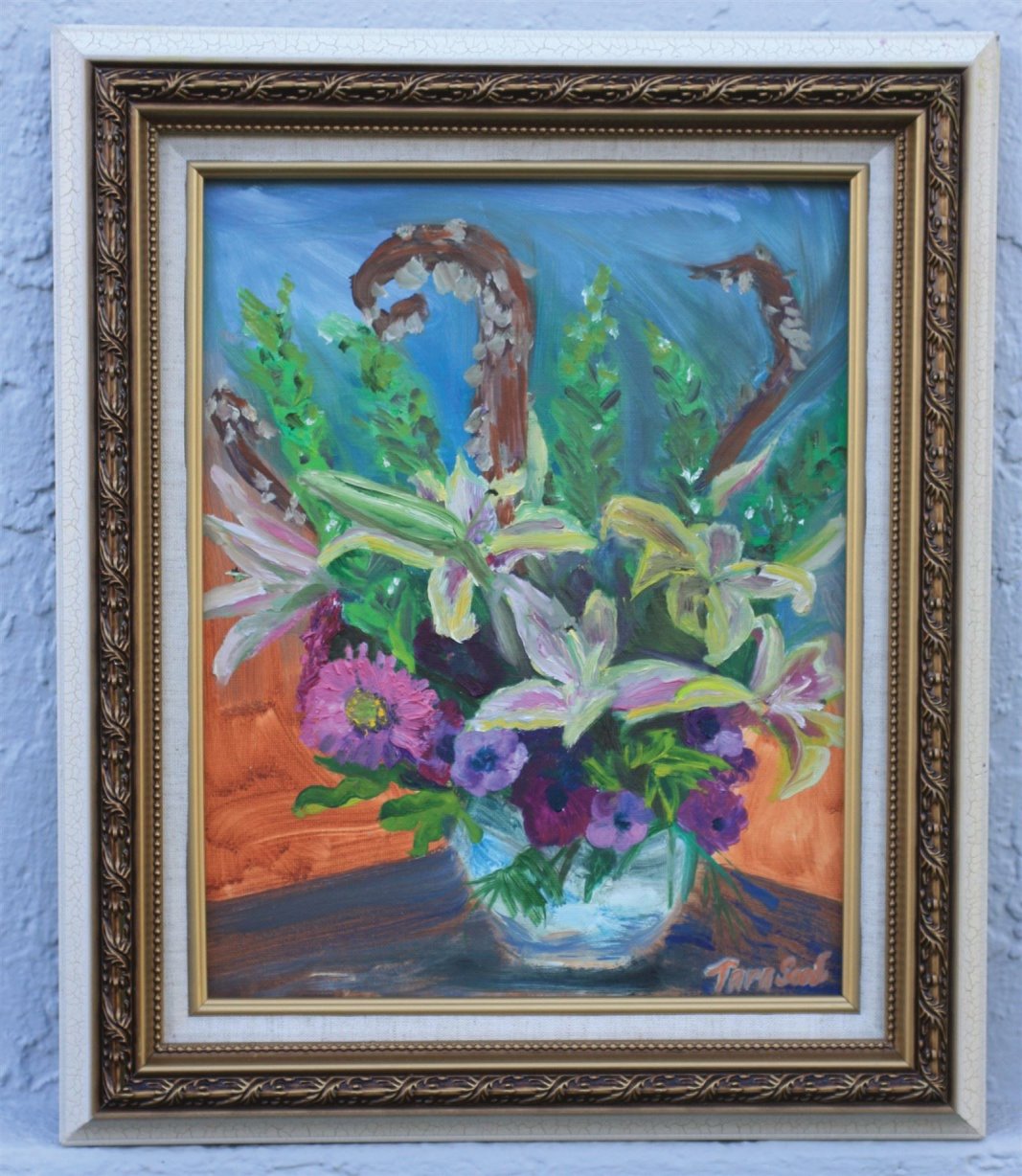 Garden Festival 2011
This past Saturday I painted for the San Clemente Garden Club Spring Festival, April 9th.  Such a great opportunity to finish a painting in one sitting - good practice!  Not only that, it was a great way to have publicity with many people walking by watching me paint and talking to me.  Fun!  I didn't win the competition, the winner was Rita Pacheco with a beautiful painting of sunflowers.  I look forward to studying with her in the future. 
BUT - I was in the paper local paper with a picture of me painting.  I'm going to head to San Clemente tomorrow and see if I can get a copy of this paper. 
Here is the painting I finished called: Garden Festival 2011.  Each artist picked a flower arrangement to paint.  The flower arrangements were also being judged by the public. 
Garden Festival 2011 is a 11 x 14 inch painting.  The original and frame is on sale for: $65.00.  Please go to my webpage and click on 'BUY' to purchase this painting. 
Painting Comments, Critiques, and Questions
I look forward to your comments, critiques, and questions about my paintings.  All comments, negative or positive will help to make me a better artist - please feel free to say what you will.
Here is the newest painting I have finally posted on the web (I have newer ones it just takes a little bit of time to get them up here).  Take a look.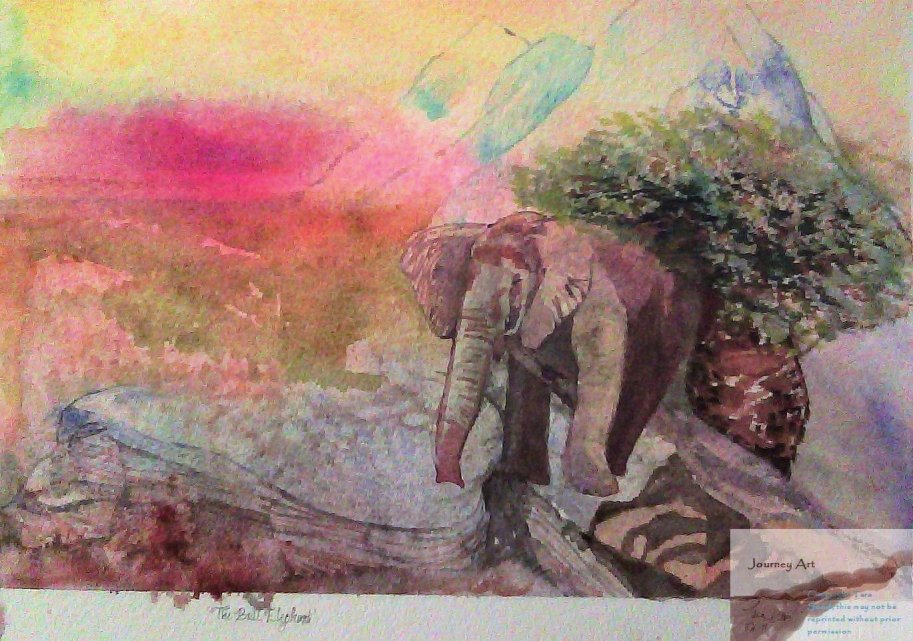 /