Shopping Cart
Your Cart is Empty
There was an error with PayPal
Click here to try again
Thank you for your business!
You should be receiving an order confirmation from Paypal shortly.
Exit Shopping Cart
Tara Sood Fine Art - Fiber and Book Studio
Hello All!  Back on the computer now and ready to share some of the work finished over the last couple months.  Here is a piece I was working on in from life.  I had to keep on buying new lilies because they do die really fast! - Tara  
"The Life Cycle of Lilies" by Tara Sood.  Completed: May 2016 Oil on Canvas 20x16 inches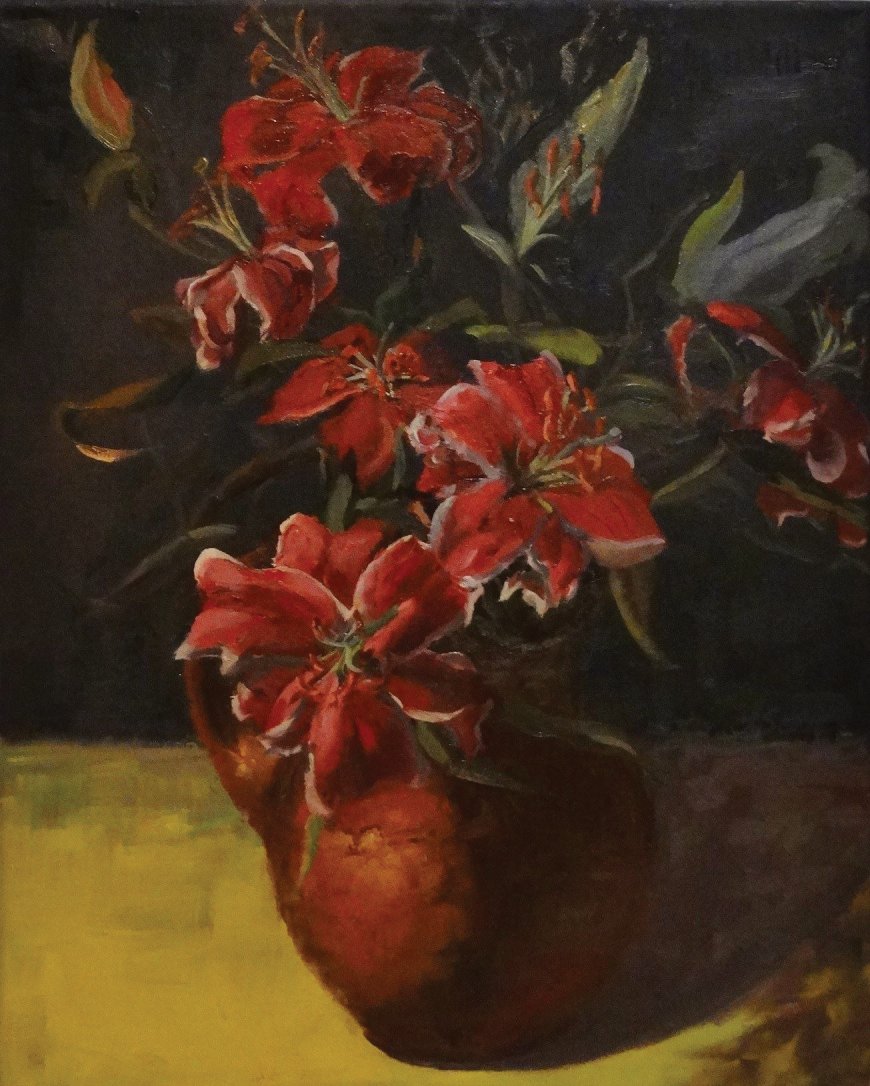 It's the middle of the semester here in my 'classroom' - being at home and virtually in class online at the Academy of Art University.  Many of you know I am pursuing a Masters of Fine Art through this university.  Currently I am taking Figure Studio and Still Life Painting.  Here are two of my current still life pieces completed, the first a study in cropping and the second an eye level piece.  Learning  so much and so busy!  As always each of my pieces are available for purchase...just let me know if you are interested...
Happy Spring,
Tara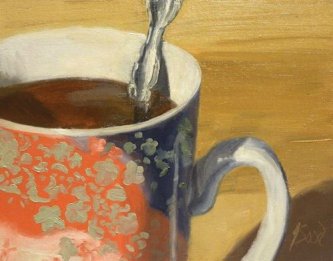 Title: Enjoying a cup of Joe
Oil on Canvas Board
12x16 inches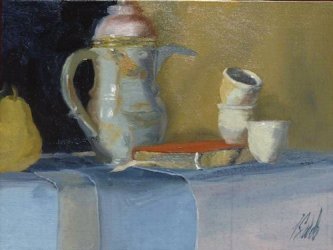 Title : Just about time for Coffee
Oil on Canvas Board
12x16 inches
Hello All!  Back from Montana!  Look for paintings from Montana in the next couple weeks.  Before that I wanted to share with you a painting I finished in June that I've been working on for about 6 months of the San Onofre coastline.  Here it is...it was juried into the Lagune Beach Cultural Event which will open in August.  Head over and see the great artwork during this public event in August.  This will be available for sale at the event as well.  Thank for reading!
Sincerely,
Tara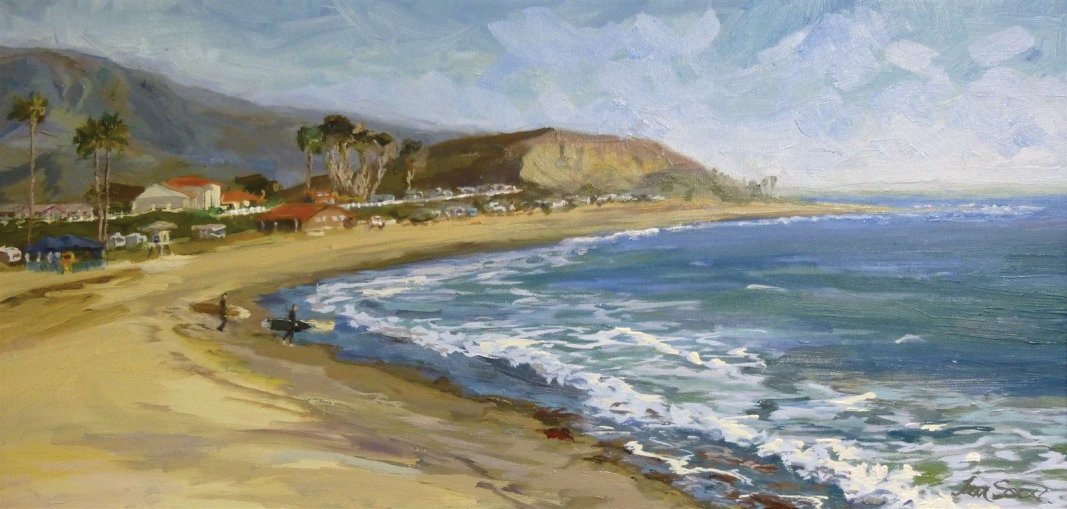 Surf San Onofre
Oil on Canvas
12x24 inches
$1350.00
Just completed the Torrey Pines one month plein air event, contest, and sale.  A wonderful time with free access to the park for one whole month just to paint!  A beautiful park - visit and hike and hang out at the beach if you have the chance to come.  Here is one painting I did during the month of April looking into the park featuring the lagoon marshland.  I did not win in the contest, but thoroughly enjoyed the chance to paint and exhibit my work at the end.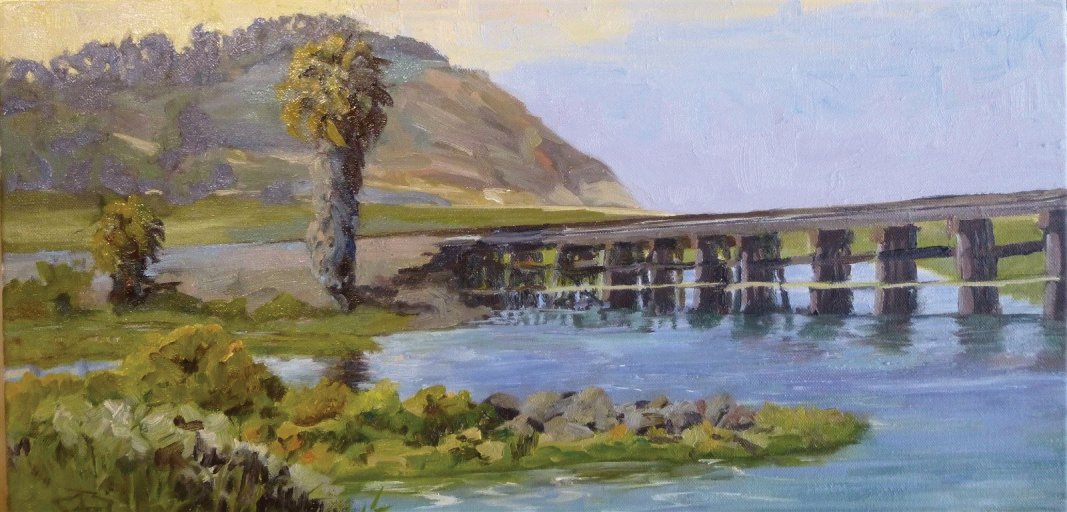 Here comes summer!  And a whole lot more painting outside.  To start that off here are two paintings I've completed of the beach.  They are available for purchase.  Go out and enjoy some beach! - Tara
1.  Sunlit, 8x10 inches, oil on canvas board,
$325.00
                                                                          2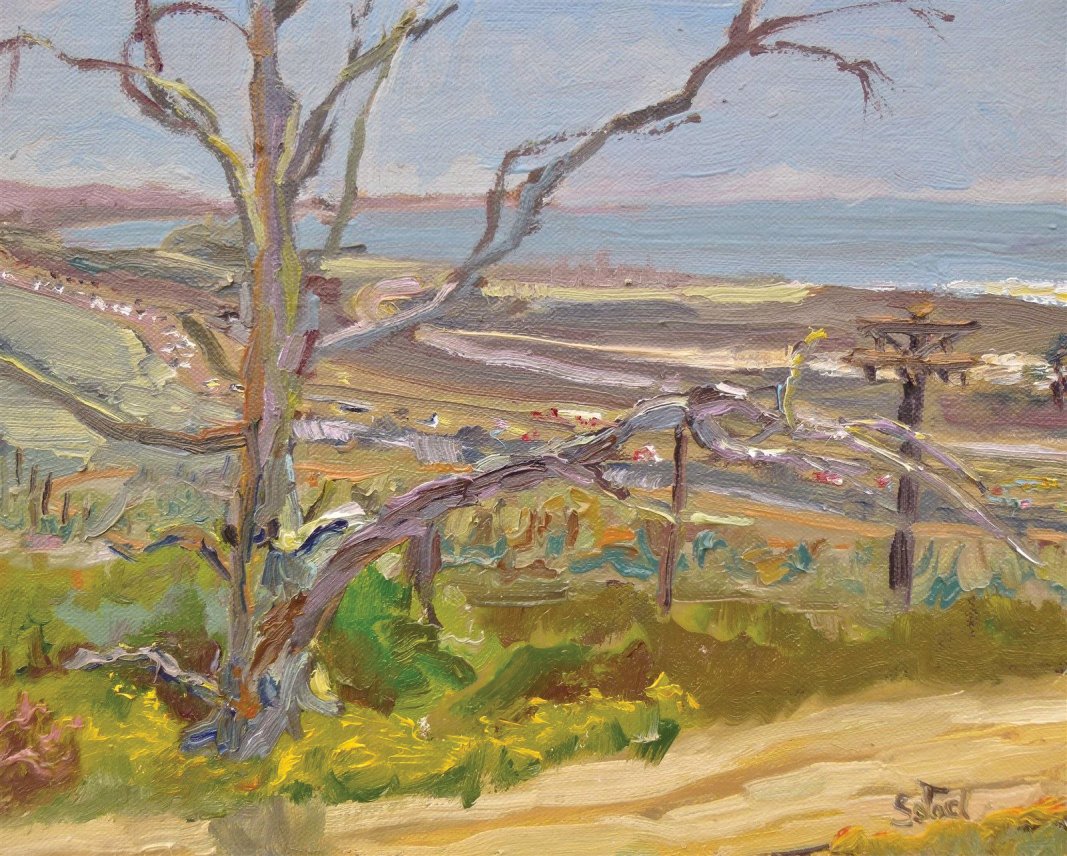 .  Sun Over the Hill, Calafia, 12x9 inches, oil on canvas board, $375.00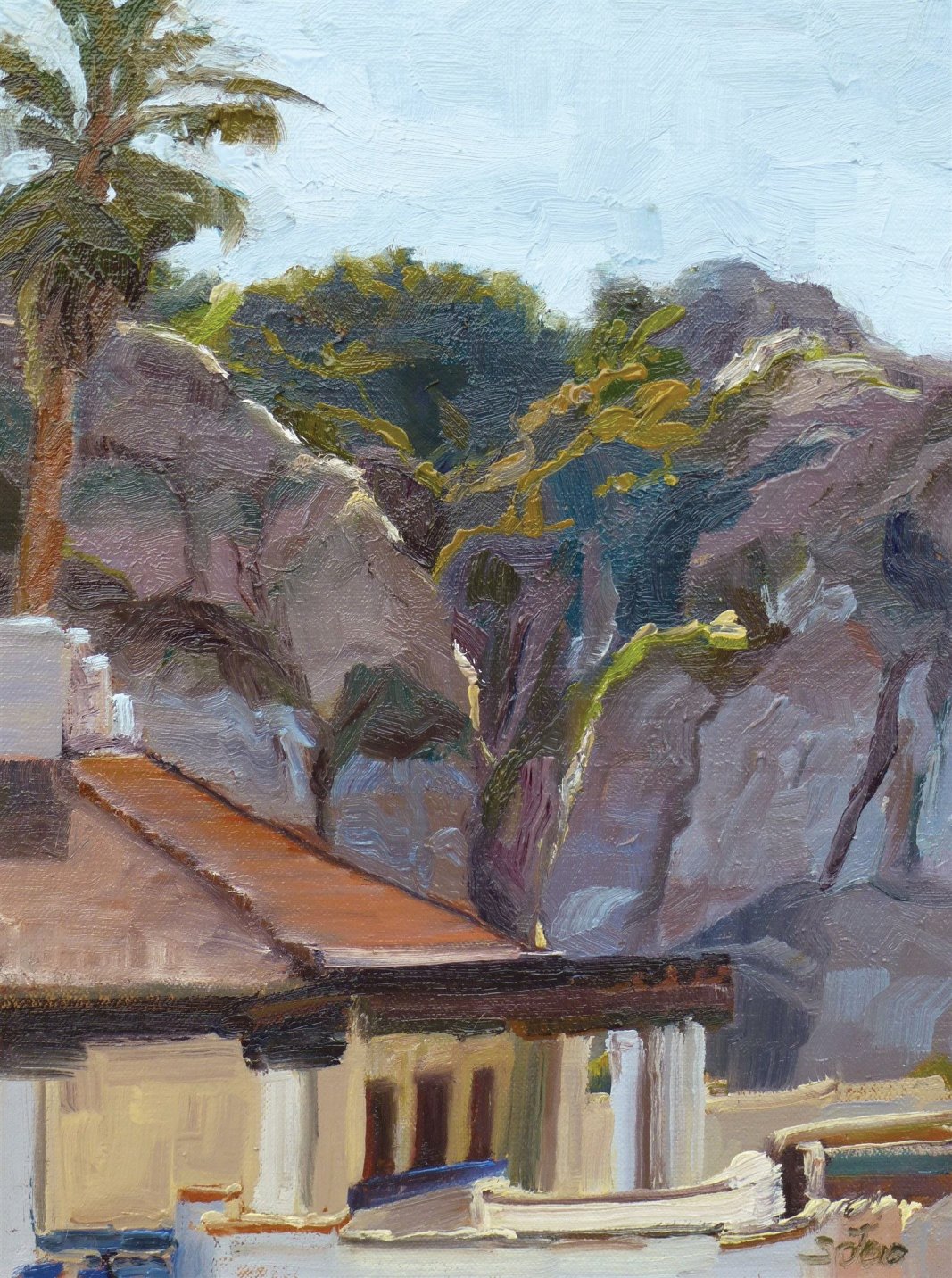 The second installment of workshop works are from our still life sessions with Scott W. Prior.  This one is the start of the still lifes and I call this - 'Time for Coffee'.  My focus on this was the reflections in the silver coffee pot.  I painted this myself over two three hour sessions with some input from Scott mainly in the values of the purple tablecloth.  The light really lightened the top of the table cloth compared to the shadows.  I seem to resist using light colors.  I am working on pieces with lighter values to really push myself to increase the contrast of light and dark values, see them, and use them to full benefit on the canvas.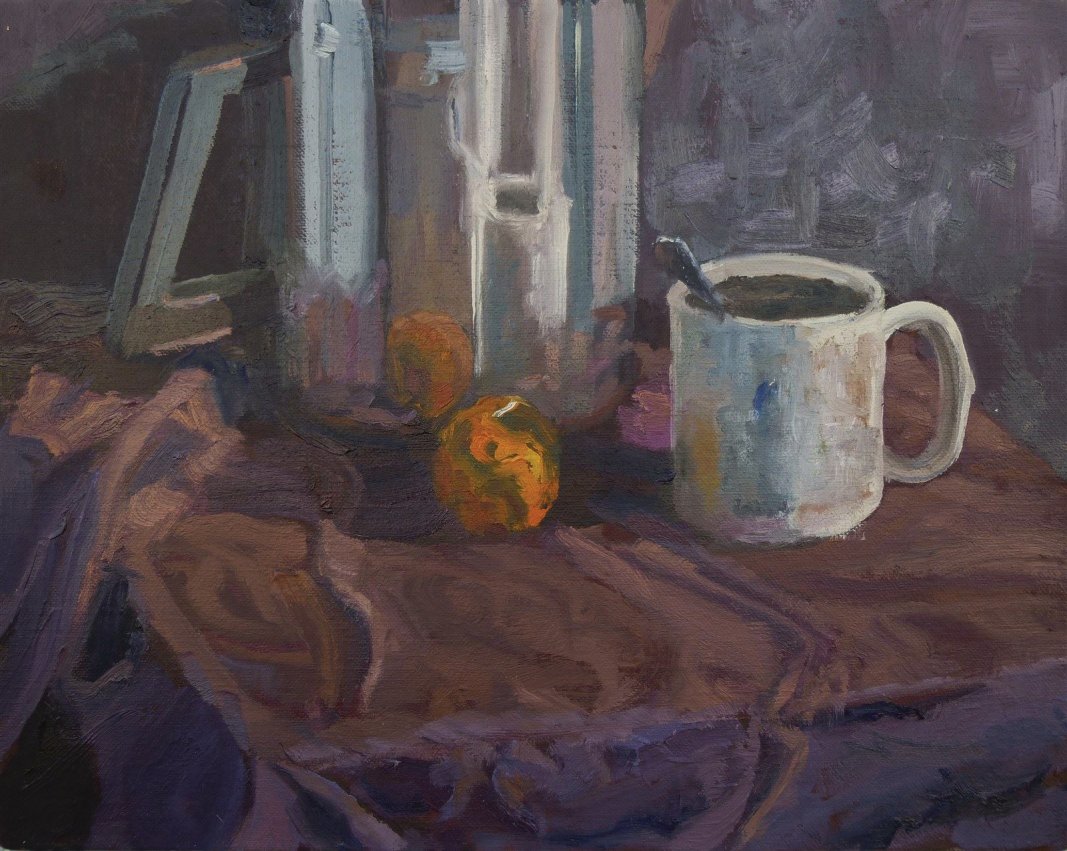 'Time for Coffee'
Oil on Canvas
11 x 14 inches
$275.00
Tide Going Out
Onion and Sweet Potatoes
Black Dahlia
Finished my paintings for the Art Auction!  Here is one of them: Beach Sentinels: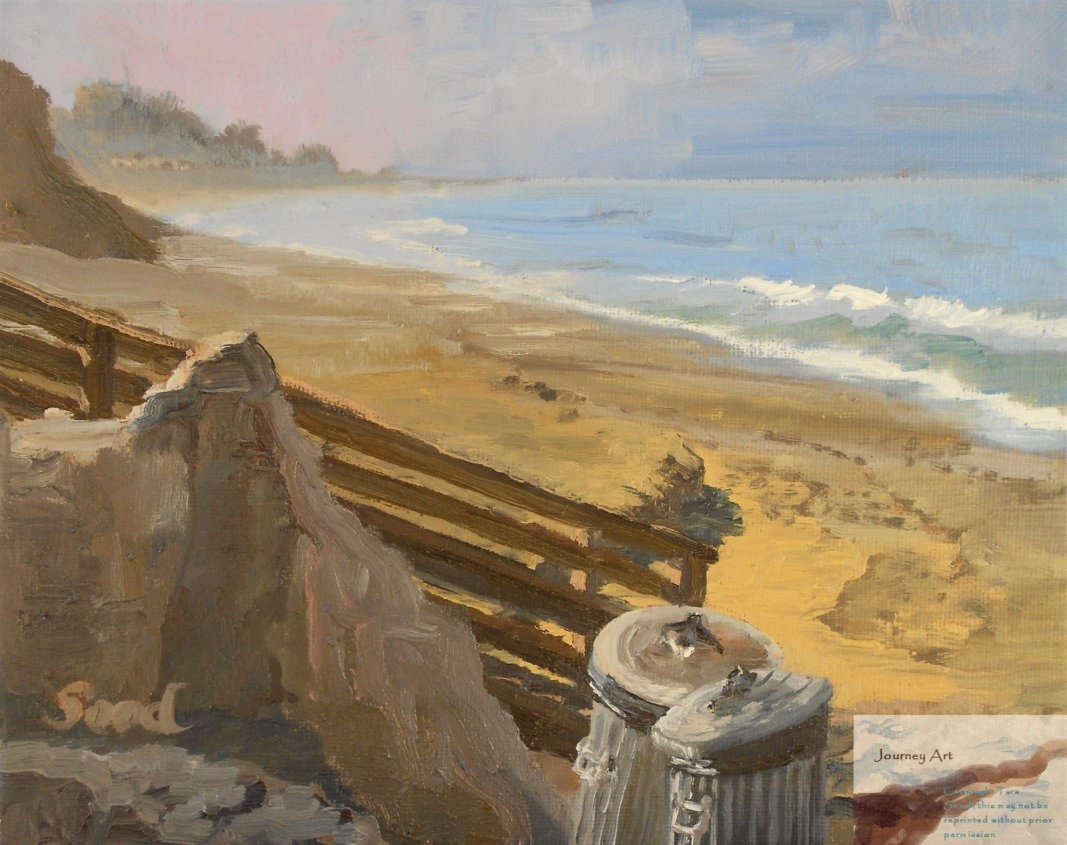 May 6: The San Clemente Boys and Girls club in league with the Casino of San Clemente and the San Clemente Art Association are putting on its first annual art auction!  20 artists were juried (including me) and 5 pieces each will be available for auction. 
/